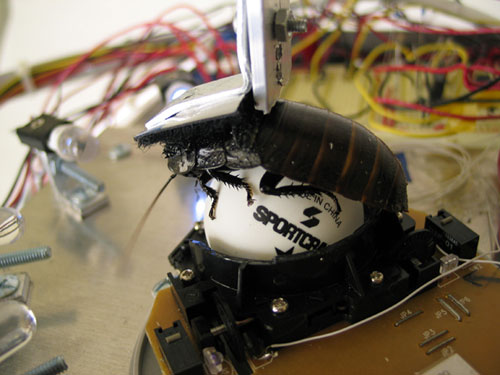 ARTBOTS: (the following text was taken from
http://en.wikipedia.org/wiki/Artbots
)
"ArtBots is an international robot talent show held in New York City and other cities. It is sponsored by a variety of arts organizations, produced by an army of volunteers, and is directed by dorkbot founder Douglas Repetto.

ArtBots is vaguely modeled on a tongue-in-cheek version of Battlebots, where robotic art submissions are curated for a group show based not on their ability to fight one another, but on their ability to make (or be) art.

The show runs for a number of days, and two (nominal) prizes are awarded: the People's Choice Award goes to the work that gets the most audience votes, while the Robot Choice Award is decided on by the artists themselves. ArtBots is dedicated to the creation, presentation, and celebration of robotic art and art-making robotics, and to the promotion of the idea that robotics, and new technologies in general, are accessible, fun, intelligible, and useful, and that "regular people", not just a technological elite, can participate in and influence our society's technological progress. The show is promoted by arts organizations, engineering groups such as the Robotics Society of America, and educational institutions like Columbia University, New York University (NYU), and Pratt Institute."
Here's the link to some of the participants and the actual site: http://artbots.org/2005/participants/ACircleofFriends/.
I'm a big fan of "A Circle of Friends Discuss James Clerk Maxwell" by Mark Esper. It's brilliant, but really, they all are. Enjoy.